WELCOME TO THE NEW SEASON
The Southwell Sharks are the thriving junior section of the Southwell Squash Club. We had over 20 junior members in 2017/18. We are committed to providing a high-quality introduction to the game of squash and we hold regular coaching sessions during term times. Coaching sessions are a fabulous base to build from, and over the years we have developed a range of activities including monthly leagues, friendly matches with other clubs, holiday clubs, fund raising and social events. Juniors have attended PSL nights at Nottingham during school holidays to see some of the world's best players in action and we have organised regional junior competitions.
Accreditation
Southwell Squash Club is accredited by England Squash, the sport's governing body. As such, we implement best practice in child protection and other key areas. All our sessions involving junior members are run under the guidance of qualified coaches and/or experienced squash players. You can view our Child Protection Policy and Codes of Conduct by clicking on the PDF documents below:
Child Protection Policy Statement (PDF 178KB)
Coaches Code of Conduct (PDF 444KB)
Volunteers Code of Conduct (169KB)
Parents Code of Conduct (166KB)
Juniors Code of Conduct (171KB)
Club Night
Junior Coaching is held on Monday nights. There are two sessions:
4.20pm – 5.20pm: Beginners/Improvers
5.20pm – 6.20pm: Advanced
Each session costs £4.00 and all new members can receive new member offers.
Our Coach – Kevin Emery Level 3 England Squash & Racketball Coach

We are very fortunate to have one of the best coaches in the UK, as our head coach. Kevin Emery is an England Squash & Racketball Level 3 coach and a former regular Notts premier league player. Kevin has coached some of the best youngsters in the area, including Ollie Holland, the former European Junior Squash Champion and England Junior U19 Champion.
Safety and Equipment
As with all sports, there is an element of danger involved when playing squash, particularly as the sport is played in a confined area with a fast moving small ball. However, to minimise the risk of injury we have adopted the recommendations of England Squash for juniors to wear eye protection.
It is mandatory for juniors to wear eye protection for all sessions and competitions, whether playing at the club or away at other clubs during competition. Goggles, which are available for parents to purchase, can also be provided to juniors on request and will be available at all junior sessions.
Appropriate footwear should always be worn when on court, and this should be non-marking in order to protect the courts.
Juniors can be provided with rackets and balls, if required.
Administration
Junior members are defined as being under 19 years of age in line with England Squash guidelines.
All juniors participating in Club activities must have a completed Parental Consent Form on file with the Club. Please click on the link below to download the Parental Consent Form.
Parental Consent Form (PDF 181KB)
Inspiring Our Juniors – Watching and Meeting the World's Top Players
We are lucky to have some of the best squash in the world played on our doorstep. In just over half an hour our juniors can be at Nottingham Squash and Rackets Club, home of the Air-IT Professional Squash team and a venue for many top squash events. Junior members of Southwell Squash Club regularly support their local professional squash team in Nottingham, and get the amazing opportunity to meet and speak to the world's top squash players.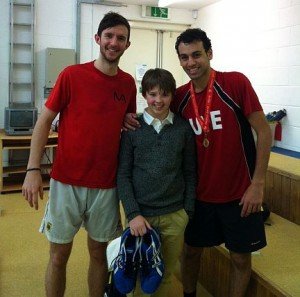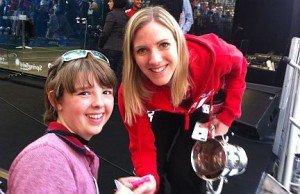 Get in Touch
If you would like to come along, please contact Julie Bowcock by email at jb64@mail.com or use our contact form (please be sure to check the 'Juniors' button to ensure your email is received by Julie). Junior squash can be heavily subscribed so please get your request in early.